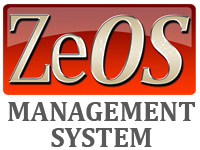 Reach your casino from anywhere with
– Easy Access
– Maximum Security
– User Friendly
– Online
The differential feature of ZeOS MS is very important as ZeOS MS software system has been formed with all requirements of managers and directors who has a long term professional experience in the international casino industry.
ZeOS MS is an online slot management system which provides Online Casino Monitoring Ticketing, Cashless and Player Tracking.
With ZeOS MS you can get a grip of your accounting and cage processes in your slot department with minimum investment. ZeOS MS can be fully integrated to Cashless and Ticketing solutions. Control and monitor the financial, security, maintenance and activity time issues of each slot machine.
With ZeOS MS you can !
Save both time and staff. With the less activity slot operators can spend much more quality time to please the guests.
Easily be aware of any slot machines and real time notifications of events on the slot floor such as open doors, jackpot hits and hopper jams.
Give extra bonusses and to your players.
ZeOS MS provides mystery and community jackpots and flexable user rights from limited to the administrator level.
ZeOS MS is built to support 24/7 casino operations
Increases security of slot operations
Provides much more knowledge about your customers.
Controls all kind of costs on the slot floor.
Gives an access to more comfortable and longer play
Controls and monitors your slot-floor processes

Ticketing
If you want to decrease your slot floor operations, you need to consider introducing a ticketing system to your casino floor.
ZeOS MS Ticketing is a good choice for the operators, who wish to provide extra benefits to its players..
ZeOS MS Ticketing reduces or even completely eliminates hopper fills, simplifies hand pays and thus directly increases the efficiency of your casino staff.
With the ticket a player can change between slot machines quickly without having any trouble and with avoiding waiting time for the operator.
With ZeOS MS ticketing cashier ticket sales module (optional) you can save time for your high roller players.
Benefits for players
Easy to carry if any compare with the coins.
No need to wait for the slot attendant to collect the winnings.
Player privacy.
No time loss at the cash desk.
Benefits for the staff
Tidily running of slot operators without messy cashouts ,slips or coins.
Provides personel happiness and thus much more focused personel with the players.
Player Tracking
Casino players like being recognized. They would like to receive promotional rewards according to the money spend.
With ZeOS MS Player tracking ,you can provide lots gifts and promotions to your players. According to the money spend , can grade players and can provide different reward programs to each customer seperately.
With ZeOS MS Jackpot module (OPTIONAL) you can create mystery and community jackpots for your players.
By centralizing the information you have obtained on your players, you can:
Easily recognize your regular customer,new comers and special ones
Classify players with different levels.
Reward players according to their levels.
Control and monitor their statistics.

Cashless
ZEOS MS Cashless, increases comfort by using smart or magnetic plastic credit cards for all the money transfers on the casino floor.
The money will move faster around your casino, with lesser expenses and increased security. The solution will also bring a positive influence to your revenue and player satisfaction, without incurring additional hardware costs to the slot machine.
The money can be loaded on the card at the cashier's desk. When the card is inserted into the slot machine, the assets are transferred into the credit meters and can be played. They can be transferred back onto the card with the cash out button, and the player is fast on his way to the next slot. At the end of the evening the money can be redeemed at the cage or at the self-service terminal. This procedure is extremely secure for the player as well as for the casino. The players can additionally enhance security by using optional PIN protection.
Benefits
Fast and secure money flow around the floor
Simple and easily understandable for all types of players
Boosts revenues by fast and uninterrupted play
Can be used on all machines – denomination independent
Lesser down-time for maintenance
Maximizes cost-saving by eliminating coins and bill handling
Advantages
Compatible with all types and slot machine brands
Increased customer satisfaction
Lower costs of slot-machine maintenance
Less demand for the cage services
All-in-one: Player Tracking and Cashless card
Benefits for the Players
Easier to carry around than large amounts of cash or coins
Fast and easy bet-placing and moving around the casino
High level of privacy
Cards can be generic or personalized.

Online Data Transfer
Reach your information in real time withZeOS MS' secure network.
ZeOS MS is collecting the all meter information from a server which is located in the casino and connected to slot machines.
Due to this reason, it is possible to save from time and staff and avoid any mistakenly entries to system.
Another advantage of the ZeOS MS system, you can monitor all the real on time figures of the casino whenever you want and from wherever you are.